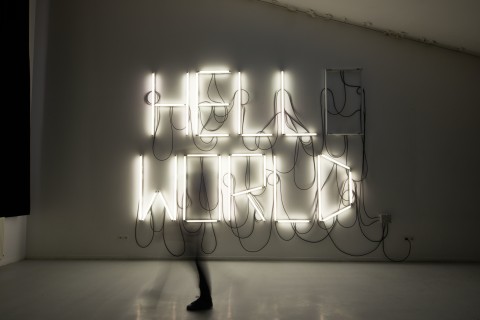 Exposition
24th June - 22nd July 2017, Opening Saturday June 24th - 5 PM at Espace multimédia gantner
Echo Chamber
co-production : EUropean Connection In Digital Art (EUCIDA), Curator : Matthew Nevin
'Echo Chamber' aims to create an accessible dialogue between the digital arts and its interpretation of politics, culture and society. An echo chamber is where ideas or beliefs are repeated inside social networks, where different views are disallowed or underrepresented.
+
À l'ombre des ondes
Duo Kristoff K. Roll
Pour cette nouvelle collaboration avec le festival météo de Mulhouse, sont proposées des siestes audio-parlantes qui auront lieu dans un parc à Mulhouse (à définir).
+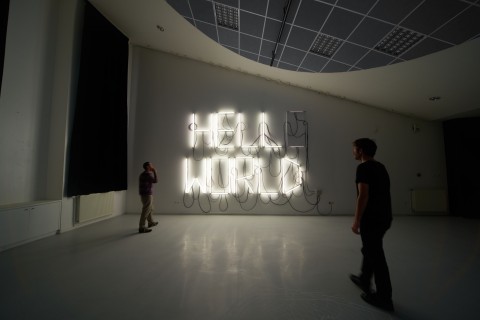 Exposition
Du 24 juin au 22 juillet - Vernissage samedi 24 juin à 17h
Echo Chamber
co-production: EUropean Connection In Digital Art, Commissariat: Matthew Nevin
La chambre d'écho est un espace fermé dans lequel un son va se répéter, une métaphore pour évoquer un moment pendant lequel une idée, une information, va être amplifiée, répétée.
BZZZ ! Le son de l'électricité
Cécile Babiole
L'Espace multimédia gantner présente cette année, Bzzz ! Le son de l'Electricité de Cécile Babiole, une sculpture sonore qui tente de faire entendre et mettre en espace le son de l'électricité.
+
Drone
Gérome Nox
Installation sonore in situ pour quatre amplificateurs et un système infrabasse où le spectateur déambule et perçoit les matières sonores à son gré…
+
Erwan Keravec
Erwan Keravec
Musicien traditionnel breton, erwan Keravec est un sonneur de cornemuse écossaise au parcours éclectique, qui s'est libéré de l'usage habituel de la cornemuse pour s'aventurer sur les chemins de traverse de la création musicale.
+
Appel à Résidence EUCIDA.
EUCIDA - European project
Take part in the EUCIDA project (EUropean Connections In Digital Arts) by submitting your application for a residence until May 5, 2017 at 5 pm.
+
Anarchronism – Time-disrupting machines
by Anne Laforet
This exhibition proposes to approach contemporary practices through a portmanteau word, "anarchronism", fuses with the chaos and autonomy of anarchy and anarchism. The compression of the two words allows us to comprehend artworks which are the result of compressions themselves.
+
Encore une soirée ratée…TRAC Showtime
By the TRAC* / Transfuseur réseau d'art contemporain
+