Escaping the Digital Unease
Domenico Quaranta, Fabio Paris, Raffaël Dörig
After 25 years of the World Wide Web it has become commonplace that our life also happens in digital communication spaces. But unease spreads in this digital life.
+
Land / Sea / Signal
Curator : Nora O'Murchu // Co-production with EUCIDA
After Echo Chamber, Land / Sea / Signal is the second exhibition built as part of the project Europe creative EUCIDA.
+
The Great Offshore
Collectif RYBN.org
The Great Offshore (Le Grand Large) is a documentary artwork, that invites us to a journey into the depth of the offshore industry. The work gathers together documents, narratives, photographs and objects, collected during several trips in some of the most notorious tax havens : the City of London, Zürich and Pfäffikon, Switzerland, Vaduz, Liechtenstein, [...]
+
Echo Chamber
co-production : EUropean Connection In Digital Art (EUCIDA), Curator : Matthew Nevin
'Echo Chamber' aims to create an accessible dialogue between the digital arts and its interpretation of politics, culture and society. An echo chamber is where ideas or beliefs are repeated inside social networks, where different views are disallowed or underrepresented.
+
À l'ombre des ondes
Duo Kristoff K. Roll
Pour cette nouvelle collaboration avec le festival météo de Mulhouse, sont proposées des siestes audio-parlantes qui auront lieu dans un parc à Mulhouse (à définir).
+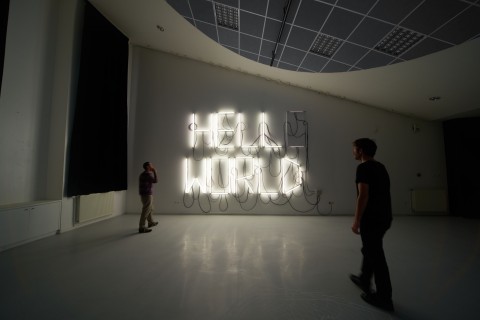 Exposition
Du 24 juin au 22 juillet - Vernissage samedi 24 juin à 17h
Echo Chamber
co-production: EUropean Connection In Digital Art, Commissariat: Matthew Nevin
La chambre d'écho est un espace fermé dans lequel un son va se répéter, une métaphore pour évoquer un moment pendant lequel une idée, une information, va être amplifiée, répétée.
Le chant des terres
Commissaire d'exposition : Valérie Perrin
Nos rythmes de vie s'accélèrent, notre environnement ne cesse de se métamorphoser, les catastrophes naturelles semblent de plus en plus fréquentes. Dans cette révolution se questionne notre relation à la Terre, à ses manifestations les plus variées.
+
BZZZ ! Le son de l'électricité
Cécile Babiole
L'Espace multimédia gantner présente cette année, Bzzz ! Le son de l'Electricité de Cécile Babiole, une sculpture sonore qui tente de faire entendre et mettre en espace le son de l'électricité.
+
Drone
Gérome Nox
Installation sonore in situ pour quatre amplificateurs et un système infrabasse où le spectateur déambule et perçoit les matières sonores à son gré…
+
Erwan Keravec
Erwan Keravec
Musicien traditionnel breton, erwan Keravec est un sonneur de cornemuse écossaise au parcours éclectique, qui s'est libéré de l'usage habituel de la cornemuse pour s'aventurer sur les chemins de traverse de la création musicale.
+